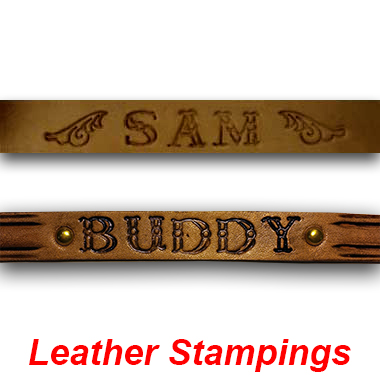 Click On Graphic To Enlarge or Reduce

Another GREAT Add-On for Personalization!
If you're purchasing a 1/2 inch non-embossed leather strap then make it YOURS... Personalize It! Most popular is to stamp your initials or first name but whatever you like.

This Accessory DOES NOT include the strap.
You MUST order a leather strap for the Stamping.
We highly recommend a Natural Cowhide as that stamps best!


Price starts at $9.00
NOTES:
Pricing is calculated as follows: $7 for setup, then $2 per character stamped.
Leather is 1/2 inch high and Characters are 3/8 inch high and all caps.
Letters ONLY, no numbers.
A maximum 10 characters is allowed.