If your BubbaStik or BubbaStaf was bought anywhere else in this great country except for Stepinstik.com or BubbaStik.com you will need to complete the Factory Form.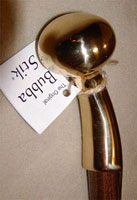 StepinStik.com stands behind the quality of every product we build and sell. Understandably, since all Stiks, Stafs and Accessories on StepinStik.com are custom built to your spefifications, no customized and/or personalized products can be accepted for return unless there is a manufacturer defect or mistake of the customized build on our part... NO OTHER REASON!

Please review our return policy below, then fill out the StepinStik.com Form ONLY if your stik or staf has a manufacturers' defect or a mistake of customization. This is our return policy:
The Stik or Staf in question MUST have a manufacturers' defect or mistake of the custom build by us.
You must contact StepinStik.com via eMail as quickly as possile to obtain a return shipping address which acts as your authorization.
You must return your damaged stik within 15 days of the ship date. The date and address can be found on the USPS slip attached to the shipping tube.
The returned product must be in new condition and in original packaging.
The customer is responsible for the return shipping costs to StepinStik.com. We recommend USPS Priority Mail for the best rates and fastest service.
The damaged item will be repaired or replaced at the sole discretion of StepinStik.com
StepinStik.com will be responsible for the shipping costs back to the Customer after the replacement or repair.
Under NO circumstances will an item be repaired or replaced WITHOUT an inspection of the damage FIRST by StepinStik.com.
NO cross-ships.